Loesch Naturals Systems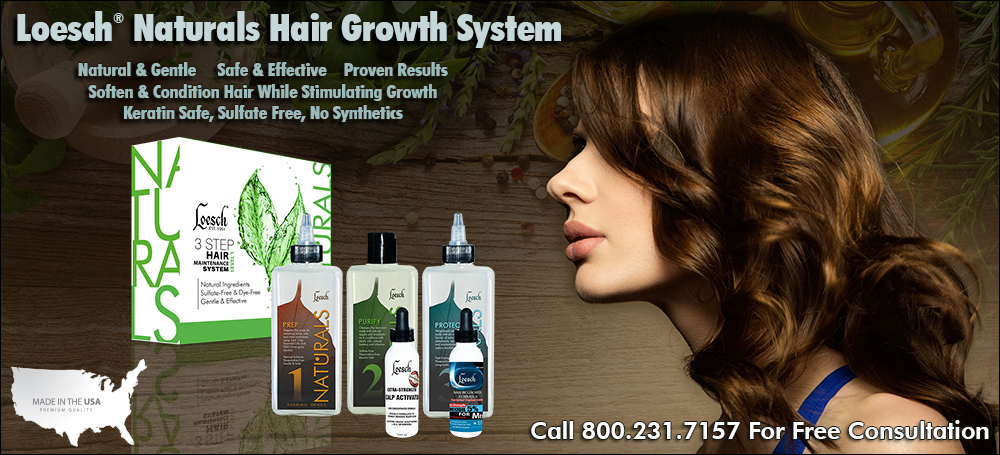 The Loesch® Professional Hair Growth System

Our newest system made from Whole Foods-approved, naturally-derived ingredients. Every product is preservative-free, keratin-safe, sulfate-free, dye-free, with no artificial fragrances or perfumes. The system is even milder than our Loesch Original Hair Growth System products and has no shipping restrictions so you can request rush shipping or international shipping without the extra cost of shipping other products that contain flammable ingredients.
Reduce Follicle Pressure & Toxic Sebum (Level 1, 2, & 3)


NATURALS PREP

should be applied to a dry scalp in the shower or bath. Shake well, then apply 1/4 to 1/3 fl. oz. using the pointed applicator tip. The product spreads easily and penetrates follicles delivering ingredients that soften sebum and prepare it for removal. Leave on for 30-60 seconds, then rinse.
Remove Sebum & Condition Hair (Level 1, 2, & 3)


NATURALS PURIFY

imay then be used to remove softened sebum without sulfates, detergents, synthetic chemicals, or unwanted preservatives. Massaging the scalp helps to lift out sebum, remove styling product buildup, and improve blood flow. Keratin-safe, paraben-free, dye-free, and fragrance-free. Conditions naturally with Shea Butter, Coco Butter, and Mango Butter.
Increase Blood Flow (Optional - Level 2 & 3)


BOTANICAL SCALP ACTIVATOR

increases blood flow by gently opening cappillaries allowing more oxygenated blood to bring nutrients to the follicles and carry away waste products as nature intended. Those over 45-50 years old will see improvements and the older you are, the greater the benefits. If you have gray hair, a good side-effect may occur. Some of your natural hair color may return leading to darker, healthier looking hair.
Protect From Further Toxicity (Level 1, 2, & 3)


NATURALS PROTECT

forms an invisible shield against the damaging gasses in the environment and allows sebum to flow out of the follicles naturally until your next treatment. Use 1/4 to 1/3 fl. oz. for coarse or dry hair. Use less for fine or oily hair.
FDA-Approved OTC Hair Growth Medication (Optional - Level 3 Only)


MINOXIDIL

has been proven safe and effective to grow hair in >75% of those who use it twice daily. Use only when other treatments don't work or if you have a history of early hair loss.
Not sure which products to order? Try our automated Online Consultant or call one of our consultants at 800.231.7157. They can work with you to choose the lowest level of treatment that will work for you.
A Note From Our VP
While natural regrowth of hair is a result of improved hygiene and limiting the toxicity of sebum as it oxidizes in contact with the hair follicle, "Hair Growth" claims are under the FDA's jurisdiction and refer to those treatment kits containing Minoxidil. Minoxidil is a hormone that induces hair growth but it is not for everyone. If you want to begin using Minoxidil but are unsure of its side-effects, please call 800.231.7157 for a free consultation. We care about your hair growth, but we care more about your overall health.
-W. T. Loesch III